Printing process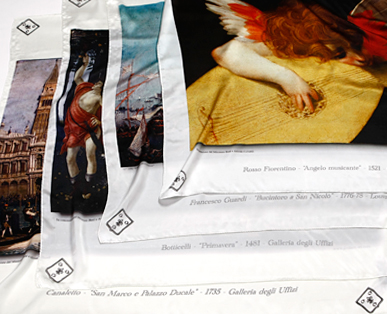 Foulard'art products are made exclusively in Italy in order to guarantee superlative quality in the reproduction of the work of art.
A team of craftsmen specialized in printing and dyeing processes has developed an innovative system which combines age-old traditions in the field of artistic reproduction with the very latest digital printing technology.
As a result of this system, every printed foulard is an exclusive and original piece, and only after being submitted to the scrutiny of the "Master of colour" may each foulard proceed to undergo "special treatments" that guarantee vivid, enduring colours.
The results are startling: images are utterly faithful to the original painting by the artist and can be touched and worn with the utmost nonchalance, without any particular precautions that might restrict their use.
Dry cleaning is recommended for our foulards, and can be ironed.